23 mini-stores plus various facilities and opportunities available for entrepreneurs and strategic partners to operate and tap upon in Youth Hub in Hutan Bandar MBJB
The 15 acres Youth Hub, located in Hutan Bandar MBJB, is expected to officially open in Q1 of 2020 and is currently seeking entrepreneurs and strategic partners to be part of the excitement by operating or tapping upon its 23 mini-stores and various facilities and opportunities.
[expander_maker id="2″ more="Read more" less="Read less"]Read More
"The youth hub is billed as an affordable, one-stop-centre for the youth. This is the platform where  youths  can  enjoy  and  develop  themselves in areas such  as  sports, entrepreneurship,  creative  and  arts,  volunteerism and  many more supported by the various offerings and  facilities. It is one of the initiatives under Iskandar Malaysia's youth development strategy and is built based on feedback from the youth community," said Datuk Ismail Ibrahim, Chief Executive of Iskandar Regional Development Authority (IRDA).
Datuk Ismail further explained that youth development is a key economic and social agenda in Iskandar Malaysia as they will become the future leaders and players in the region. Therefore, it is important that they are nurtured with the necessary skills and experiences to be able to support and flourish in tandem with the fast growth of Iskandar Malaysia and reap the benefits.
In preparation of its opening, the youth hub is seeking entrepreneurs, especially by the youth, to come in and offer their products and services such as food & beverages, sports equipment and attire, as well as gadgets through the 23 mini-stores that the youth hub has completed.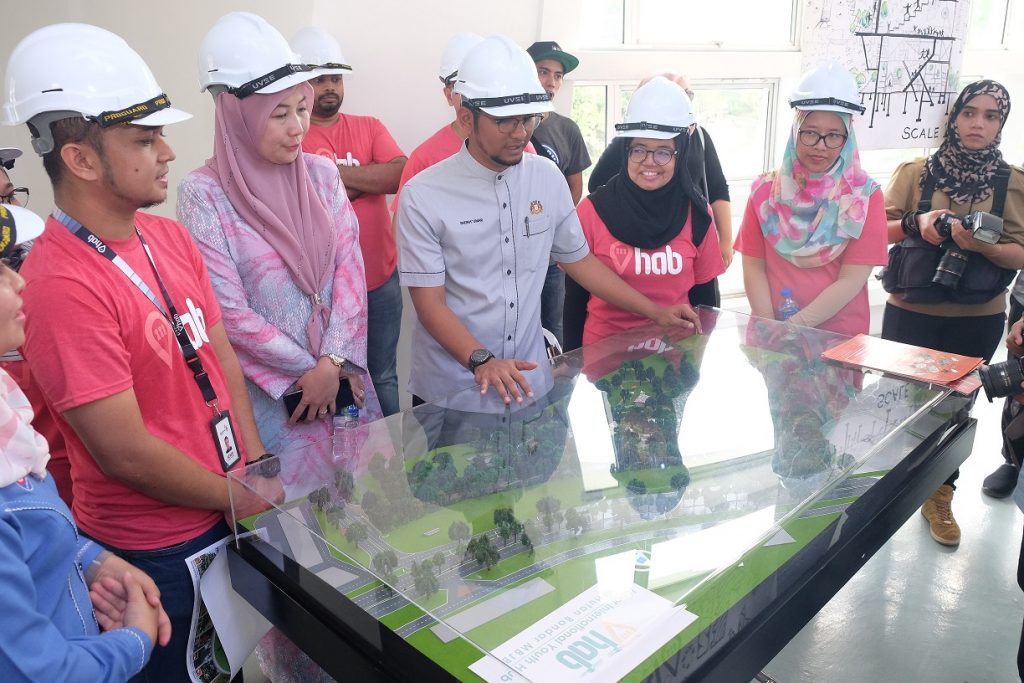 For the strategic partners, the youth hub is looking for associations or corporations that would want to operate or sponsor its many facilities such as meeting room and pods, an entrepreneurship gallery, a mini theatre, a food court, various sports amenities such as wall climbing, jogging, mountain biking and skate plaza, a camping site and others. There will also be branding opportunities through outdoor and ambient advertising.
Between 2016 and  2017, more  than  15,000 youths  participated in various programmes at the  youth hub and  reached to more  than  50,000 youths  through  its digital platforms.
In the  past,  the  youth hub has hosted various programmes such as the 1,000 pax 'Jamboree Sukarelawan Darul Ta'zim', an independent art market,  a BBOY and parkour  battle,  youth retreat, the '29th N3ON Architectural Workshop' and many more.
During a recent working visit to the Youth Hub, Exco Sheikh Umar Bagharib Ali, Johor State Youth, Sports,  Entrepreneurship  Development And Cooperatives Committee chairman calls upon  the  youth  of Johor  to  be  more  creative  and  innovative  in grabbing opportunities in the creative industry which is growing rapidly around the world. He asserts that the state  government will continue  to work hard  and  find ways to ensure that  this agenda will impact  the  youth in Johor through  programmes and  activities  by the youth.
More information on HAB can be found at facebook.com/johoryouthhub. For entrepreneurs and strategic partners who are keen to take up this opportunity, do contact Raja Taufik at taufikazad@irda.com.my, Azman at m.azman@irda.com.my or Lynn at gohwl@irda.com.my
[/expander_maker]