Johoreans gather to kick off "WALK:SIHAT JOHOR"
Hundreds of Johoreans recently gathered outside the Majlis Bandaraya Johor Bahru (MBJB) building to participate in the combined campaign of "WALK – When Active Living Kicks" and "JB WAKE UP! Car Free Day" in conjunction with international diabetes day.
The campaign was initiated by the Health Ministry in November 2018 and endorsed by the Prime Minister Tun Dr. Mahathir Bin Mohamad in an effort to reduce inactivity in Malaysians to 10% by the year 2025 in line with recommendations from the World Health Organisation (WHO) for healthy living which outlines a recommended 60 minutes of physical activity a day.
[expander_maker id="2″ more="Read more" less="Read less"]Read More
What is alarming is that the National Health & Morbidity Survey (NHMS) held in 2015 revealed that 1 in 3 Malaysians were severely lacking in physical activities which has led to an increase in obesity, a precursor for many health issues. The survey also showed that almost half of all Malaysians are overweight with women having higher rates of obesity and lack of physical activity than men. Amongst teenagers and adolescents age between 5 to 19 years of age, Malaysia ranks 2nd in ASEAN in terms of obesity – a figure that dangerously requires attention.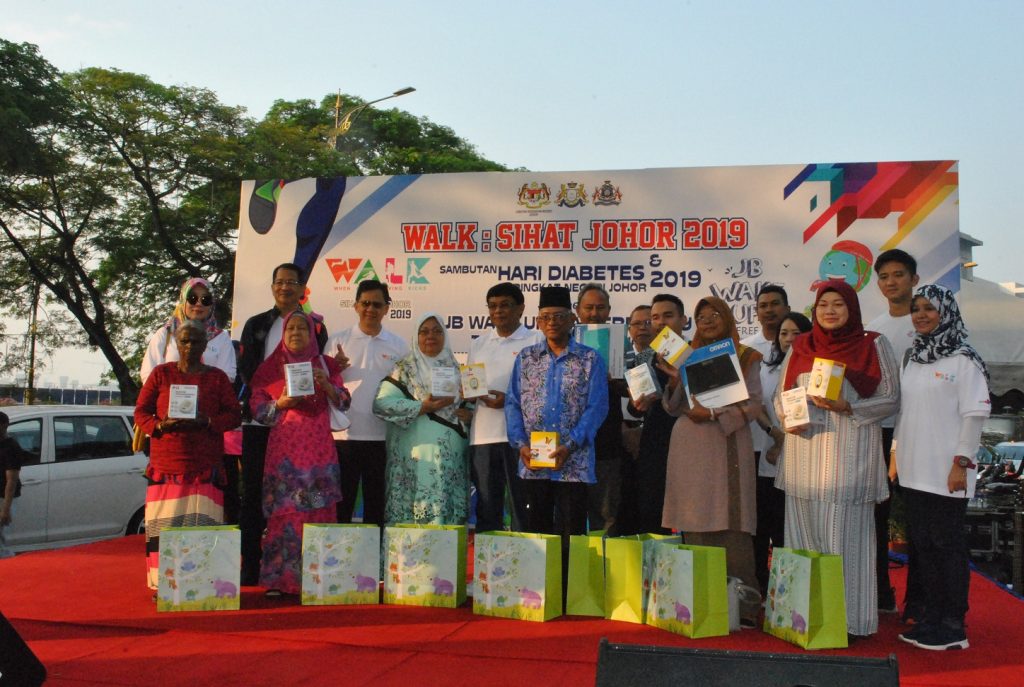 The hundreds of participants were treated to busker performances, a Zumba session, aerobic exercises, food trucks and a "FUN Walk" that circled downtown Johor Bahru. Non Communicable Disease (NCD) kits were also given out to the people in line with the Menteri Besar's vision of every family having the means to monitor and detect health issues.
The Johor portion of the campaign was orchestrated by Johor Menteri Besar Datuk Dr Sahruddin Bin Haji Jamal, who was unavailable to attend the event but appointed Mohd Izhar Bin Ahmad, Assemblyman from Larkin as the official representative who went on to address the public, gave out NCD kits, officiated the opening ceremony and joined the public in the Zumba workout.
In support of the initiative, several NGOs and organisations including KPJ, Econsave, Book Doc, Caring Pharmacy, Redfox, Johor Sports Rope Skipping Association, X Fitness, Smoke-free Johor and several others set up booths to raise awareness and provide support for health related problems that the public might have had and to participate in other forms of physical activities.
[/expander_maker]